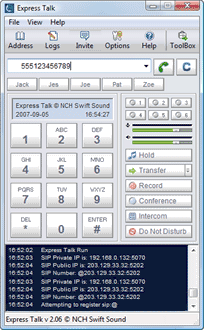 Express Talk è un Softphone per protocolli Sip.
Funziona con la maggioranza dei Provider Voip sip.
Le chiamate con altri utenti Pc-to-Pc sono free
E' possibile mettere in attesa una chiamata e farne un chiamata
su un' altra linea usando fino a 6 linee su un unico telefono.
E' completamente gratuito nella versione Basic,
ma esite anche la versione Business edition
Tutte le caratteristiche elencate le trovate anche sul sito:
Features
Lets you make internet phone calls free direct PC to PC, or PC to phone via a VoIP SIP gateway provider. More information on VoIP here

Supports up to 6 lines on the one phone with the ability to put calls on hold.

Works with a headset or in speakerphone mode with just a standard microphone and set of speakers.

Includes data compression (GSM, uLaw, ALaw, PCM and G726), echo cancellation, noise reduction, comfort noise and more.

Uses the standard SIP protocol so it can link to a broad range of telephone gateways, SIP systems or other internet phone software. Click here for a list of SIP service providers.

Can be configured to work behind NATs and Firewalls.

Supports caller ID display and logging.

Includes a phone book with quick dial.

Supports call transfer (Business Edition).

Lets you record phone calls to wav (Business Edition).

Allows up to 6 people to join one call using the Call conferencing feature (Business Edition).

Allows for quicker and easier communication using the Push to talk intercom (Business Edition).

Includes Do not disturb button (Business Edition).

Also features more advanced line configuration options with the Express Talk Business Edition softphone.

Works with our VoIP Virtual PBx to create a LAN based PBx for offices or call centers.
Used in conjunction with the VRS Call Recording Software, this softphone can record and save phone calls to MP3, wav and more.
Plays on-hold music to callers on hold. Can also link to the IMS On-Hold Messages Player Software to create professional mixes of music and messages on the fly.
System Requirements
Windows 98/ME/2000/XP/2003/Vista.

Pentium 500MHz or above with at least 32MB RAM (128MB for 2000/XP/2003/Vista).

A sound device that supports full-duplex audio (most modern computers do)

One of the following:

A headset with an in-built mic (to purchase click buy computer headsets).

A microphone and a set of speakers (the microphone can be built into the computer).

A USB phone (phone which plugs into the USB Port) (to purchase click buy usb phones).

Broadband connection strongly preferred (56k dial-up connection can be used, but performance is not guaranteed) **

(Optional) A VoIP service provider
** for slow dial-up connections the software OfficeIntercom is more suitable.